Vegan mezze inspirasjon
(Scroll down the page for Vegan meze  inspiration in english) 
I dag fikk jeg veldig lyst på muhammara som er en dipp laget av grillet paprika og valnøtter. Mens jeg først var i gang med å grille, tok jeg likegreit med litt ekstra paprika og aubergin til en salat som min mor pleier å lage. I tillegg tryllet jeg frem en salat med kidney bønner. Med litt oliven, fetaost  og brød til hadde vi plutselig et herlig vegetarisk mezzebord!#belgvekster
Meze is a a midlle eastern way of share food and traditionally eaten  with fingers, dips and sauce scooped up with bread. It´s a very social way of sharing and a concept that is very similar to Tapas, but with different types of dishes and ingredients. 
The most common serve during a Mezze is different dips, such as yogurt, baba ghanoush, muhammara, hummus, falafel and marinated olives, salty cheeses made from goat and sheep milk, fried chicken, lamb, grilled vegetables, beets, tabbouleh made of bulgur or couscous, green salads etc.
Today I was craving muhammara which is a dip made from roasted peppers and walnuts. While I first was  roasting, I just roasted  extra peppers and eggplants for a salad my mother usually makes. In addition I made a salad with  kidney beans. With some olives, feta cheese and bread we suddenly had a lovely vegetarian meze!
Muhammara(Grillet paprika og valnøtt dipp) Roasted pepper and walnut dip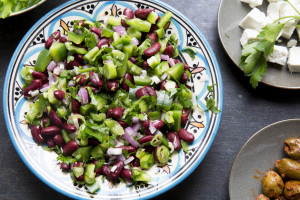 Salat med kidneybønner / salad with kidney beans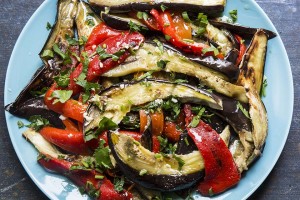 Grillet paprika og auberginsalat / Roasted peppers and aubergine salad
Flere oppskrifter til mezze:
No Comments