Havreflarn med sjokolade
For oat cookies with chocolate recipe in english, scroll down the page👇🏾
Søte, sprøe og lettlaget!  Havreflarn også kalt for svenske havrekjeks da jeg vokste opp i Tyskland.  Det er ikke nødvendig å ha i sjokolade for å få et godt resultat, for det er mest vanlig å lage dem uten sjokolade.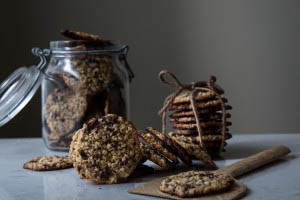 Ingredienser
150 g smør
200 g lettkokte havregryn
2 egg
250 g sukker
2 ts bakepulver
100 g mørk kokesjokolade 70 %,, hakket
Slik gjør du
Forvarm ovnen til 200 °C
Smelt smøret og hell det over havregrynene. Pisk egg og sukker til luftig eggedosis. Tilsett bakepulver, havregrynblandingen og sjokolade. Vend alt godt inn i eggedosisen med en slikkepott eller sleiv. Sett deigen med en teskje på stekeplate dekket med bakepapir. Ha god avstand mellom kakene. Deigen flyter utover når den stekes. Jeg bruker 9 havreflarn per stekebrett. Stek midt i ovnen i ca 5 - 7 minutter til kakene er blitt gylne og litt brune mot kanten. 
Følg godt med under stekingen . Kakene blir fort for stekte
Oat cookies with chocolate
Yummy cookies! Thinn, crunchy and easily made. You don`t need to add chocolate to get a good result. But i like them best with chocolate
Ingredients
150 g butter
200 grams of quick cooking oatsl
2 eggs
250 g sugar
2 teaspoons baking powder
100g dark chocolate 70%, chopped
Method
Preheat oven to 200 °C Melt the butter and pour over the oat . Beat eggs and sugar until fluffy. Add the baking powder, oatmixtue mixture and chopped chocolate. Turn everything into the egg mixture and mix well with a spatula or wooden spoon. Put the dough with a teaspoon on a baking sheet covered with parchment paper. Keep a safe distance between the cakes. The dough flows outwards when baked. I use 9 teasppons per baking tray. Bake in oven for about 5 to 7 minutes until the cookies have become golden and slightly brown toward the edge. Observe carefully during cooking, it´s easy to burn them.
Ingen kommentarer