Nanbrød med asparges og røkt laks
Recipe for asparges , smoked salmon and nan bread inspiration in english at the bottom of the page.👇🏾
Hvem vil ikke spise noe godt hver dag uten å anstrenge seg for mye ?  Nan brød, smørost, asparges og røkt laks. Nydelig når som helst og lettvint gjestemat.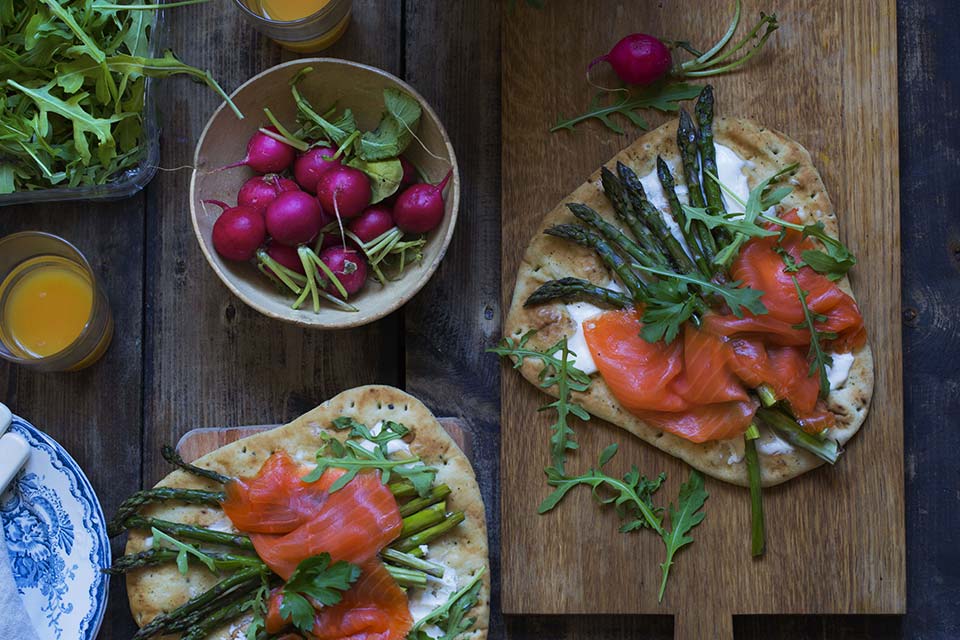 Ingredienser
1 bunt asparges
1 ss olivenolje
Salt
Pepper
1/2 sitron. saften
4 Nan brød
120 g kremost (Philadelphia)
160 g røkt laks I skiver
Ruccola og persille ( kan sløyfes)
Slik gjør du
Varm nan brødene og legg til side. Imens steker du asparges i en stor stekepanne på middels varme. Vend litt på dem under stekingen og smak til med salt, pepper og sitronsaft. Smør kremost på nan brød, legg asparges på osten og dander skiver av røkt laks på asparges . Dryss over med hakket persille og litt ruccola salat.
Asparges and smoked salmon on nan bread
Who does not want to eat something good every day without too much effort? Nan bread, cream cheese, asparagus and smoked salmon. Lovely anytime and effortlessly when you invite guests.
Ingrediens
1 tablespoon olive oil
1 bunch asparagus
Salt and ground pepper
Juice from 1/2 lemon
4 nan bread
120g cream cheese( philadelphia)
160 g smoked salmon slices
Rocket and parsley(optional)
Method
In a large skillet, heat olive oil over medium. Add asparagus, and season with salt and pepper. Cook, tossing occasionally, until crisp-tender, ca 10 minutes, depending on Add lemon juice toss to coat. Toast the nan bread. Spread the cream cheese on the nan breads. Add the asparagus and arrange slices of smoked salmon evenly on top of the asparagus. Sprinkle over with chopped parsley and rocket.
Ingen kommentarer